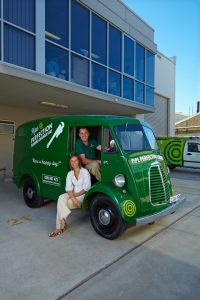 Over 700 businesses were nominated for the 'I love my local business' awards but yours truly has made the final 25!
We're so proud to be one of only 25 businesses in the whole of New South Wales to make the final round of the people's choice award. Indeed, when New South Wales Fair Trading got in touch to let us know, it'd be fair to say we cracked the biggest grin you've ever seen. Friday saw us interviewed for the Inner City Weekender and Inner West Courier, and the closing date for voting is this Friday 28th November.
In amongst the whirlwind of notification and interviews, we don't want to forget to thank each and every one of you who has brought your business to us, told your friends about us, and generally spread the word. We wouldn't be anywhere near this kind of success without your help.
But we have one more favour to ask. We need as many votes as possible by MIDNIGHT THURSDAY 27TH NOVEMBER to take out the award. So if you want to show the rest of New South Wales what the Inner West and Eastern Suburbs are made of, please get voting!
To vote, you simply need to head to the NSW Fair Trading official Facebook page www.facebook.com/FairTradingNSW and look for the voting app. From there, scroll down and look for our nomination and cast your vote.
Here is our original nomination (so you can spot it in the crowd!)
"I love Pipe Perfection in Marrickville. Right from the start, they are courteous, efficient, prompt, friendly and VERY competent. Pricing is clear, options for the work are given, they do what they say, check the work, take their shoes off, clean up – Perfect!"
Entered by Louise Marcroft
Whether we win or not, the team from Pipe Perfection Plumbers would like to extend their sincere gratitude for your business and support in 2015. This nomination has made us really feel appreciated as a part of our local community. Darren truly loves what he does, and the entire Pipe Perfection Plumbers team love being able to demystify plumbing, help people out and be a part of the vibrant communities of Sydney's Inner West and Eastern Suburbs. Being an independent company isn't always the easiest road, but being able to bring the kind of customer service and experience we do to our customers makes it all worthwhile.
So thank you!