Roof Restoration & Roof Repairs Sydney
What you need to know to keep the roof over your head from leaking rain and draining your wallet!
Thought you might – we can help! We combine strong plumbing expertise in detecting leaks as well as repairing gutters and roofs in Sydney homes with metal or tiled roofs. Our plumbers/roofers can complete the entire replacement of a Colorbond roof for you too. Your roof keeps you dry AND protects your most valuable assets – your home and its contents.
A roof leak can damage:
Ceiling and paint work
Seep into bricks damaging mortar
Soak into the foundations increasing building movement
Wet foundations and walls will cause damp and mildew
Soak into stud walls attracting white ants
You always want to act quickly when a roof leak appears as well as take the time for roof maintenance each year. The right metal roof correctly installed and well maintained can last 30 years – but will fail much earlier if not properly attended to.
DIY – Assessing a roof leak.
Some overhead leaks are due to minor problems–such as a small hole in flashing — that you can usually handle on your own if you have lots of time, patience, a high quality ladder, a life line, and some basic tools.
Ready to DIY? Click here: DIY Annual Roof Inspection and Safety Tips.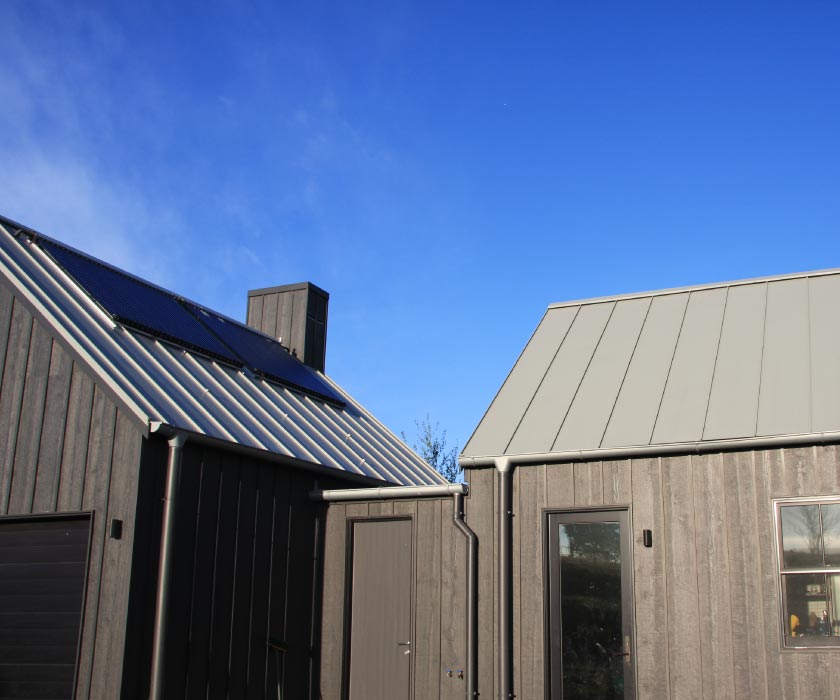 Please call Pipe Perfection when…
If you can't fix – or just prefer not to – the problem quickly and completely, call a pro in as soon as possible; water damage spreads quickly, even from a small leak. A licensed plumber and roofer is best when:
There are multiple leaks.
You have not been shown how to safely use a ladder.
The leak is wicking across framing members or along walls, making it difficult for you to trace the actual source.
A previous DIY repair isn't holding.
The leak has caused significant damage to roofing surface or flashed areas.
The roof surface, such as ceramic tile roof, is beyond your abilities.
We combine strong plumbing expertise in detecting leaks as well as repairing gutters and roofs in Sydney homes.
Once your roof is 15 years old (or younger if you haven't completed yearly maintenance), consider replacement rather than repair. If new roof leaks keep appearing, the materials are probably wearing out.

Your roof is exposed to extreme weather changes and an enormous amount of water – much of it corrosive – over its life time. As it expands and contracts, it loosens rubbers, fasteners, opening seams, joints and cracking flashing. These changes wear them out and that's how leaks begin. Once a roof hits 15 years of age, it's now a likely candidate for re-roofing
Investing in a new roof can be a much cheaper option in the long run.
In the inner west and eastern suburbs of Sydney, terrace house roofs were originally slate or iron and not terracotta tile. Terracotta tiles were introduced in the early 1900s.They can be too heavy for the battens to support and eventually sag. In this instance, replacing tiles for a steel, metal or colorbond roof is a good long term solution. You might want to consider a new roof when:
Roof leaks are frequent and/or extensive.
Repair costs are getting too high.
You're adding a house extension.
The roof tiles let in dust and the house gets too hot.
Consider these advantages of installing a Colorbond (metal or steel) roof.
Less prone to movement: tiles can shift more easily allowing water to enter.
If you have a flat roof with a shallow/no slope: Colorbond is the only choice.
Clean, contemporary look: Colorbond is popular with architects for modern extensions and new homes
It's easy to change the colour scheme and look of a home: You can change from brown tiles to a huge range of colours dramatically changing the appearance of your home
A great choice to reduce cooling and heating costs: Colorbond is thermally efficient when used with the correct insulation.
Because the roof weighs less, you get less stress on the roof's timber support
On the flip side, there are some disadvantages to a Colorbond roof
Metal or steel roofing can be noisier during rain but good quality insulation can reduce that
Harder for DIY as a single tile can be replaced as opposed to a whole sheet
Installation and repair has to be completed by a professional due to the high level of technical competence required

Think outside the tool box – why your best roofer might be your Pipe Perfection plumber!
Roofers know roofs. We know leaks. We can quickly determine where the leak is coming from and fix it whether it be roof, water pipe, drainage pipe or bathroom.
One visit – diagnosis done!
Correct steel grade lasts longer. Different suburbs in the inner west and eastern suburbs of Sydney require different grades of steel (relative to their distance from the beach). For your roof to last longest with the lowest overall cost, correct steel grade and fasteners must be used. You don't want to overpay either. (If you live 10kms from the beach, you don't need to spend as much as someone who lives 500m from the beach.)
Lots of plumbing issues? Fixed within a single appointment – and at a saving! You save time and no taking off more hours from work. We also offer significant discounts on this other work (approx 15%) because it saves us time too!
Meticulous investigation: Roof leaks can be complex because they can track along the building and exit at quite a distance from where they started. We are meticulous and careful to make sure that we get them all.
We find them all! Not only are we meticulous leak investigators, we understand complex roof leaks and never back down til we get them all. Leaks can 'move' – once a source gets found, the water trickles down to uncover another. We test and test until they're all found.
Choose the best solution for the best long-term performance and cost effectiveness.The best roof and flashing repairs/installations minimise seams and joints – potential water entry points into your home. This may mean we recommend fixing a slightly bigger section, but you'll get a longer lasting repair on a lower cost per year basis.