What happens when you don't service your

Hot Water Heater
They split!
Not only will you be standing under a cold shower, but serious flooding or leaks can damage your home. Take a look at the video of a disastrous tank split at our customer's home.→
If you haven't had your unit serviced within the last 2 years, or are experiencing temperature or pressure issues, it's time to get organised. Get in touch with an experienced Pipe Perfection plumber and we'll have you back on track fast.
Don't make the costly mistake of ignoring manufacturer's servicing recommendations
Have you got thousands of dollars to waste on replacing your water tank at short intervals? Not in this economic climate?
Just like a car, hot water heaters need to be checked annually and, at a major 5 year service to make pressure isn't building up and they aren't going to rust. Have them checked by a professional:
Annually
And, a major 5 year service
At each service, the sacrificial anode (see image below) will be lifted and checked. This rod is designed to rust so the tank doesn't. If you don't have it swapped out, your tank will rust and potentially rupture as shown in the video above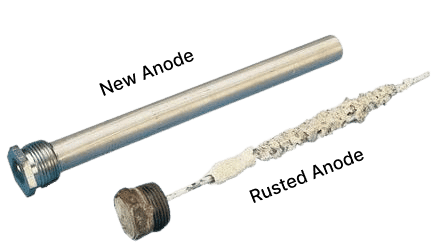 Sacrificial anodes rust when services are neglected.
The pressure release valve will be checked for good operation. If all of the safety systems in a hot water tank are neglected and defective – tanks can explode.
To invest in the long-term life of your hot water heater, get in touch us for legendary and 100% happiness guaranteed plumber services: call 1300 007 043, SMS 0485866186
Schedule an appointment

– to fix your hot water system
Schedue an appointment
This form is used for schedule appointments regarding the campaigns