Looking for a way to update your bathroom without breaking the budget? Renting a property with a drab bathroom you can't change? Try these five tricks.
Just like there's a market for effective makeovers without cosmetic surgery, we bet there are a number of homeowners and renters out there looking for ways to update the bathroom without renovating. You won't require a plumber for these five.
1. Repaint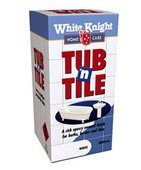 Changing or refreshing the colour in the bathroom will immediately lift it from drab to fab. Grab some paint swatches and take a photo of the bathroom, then use an image program to experiment with different colours. Don't forget to opt for water resistant or waterproof paint. This will prevent moisture from seeping into the walls, which staves off mould and mildew.
If the bathroom is mostly tile, use a product like White Knight Paints' Tub 'n' Tile, which can transform glossy surfaces without loss of performance.
2. Update your shower curtain
You don't need to spend much to update your shower curtain. There are many cheap and cheerful designs on the market that perform the same job as their more expensive counterparts. Of course you may feel you can afford to splurge on a 'luxury' version if you're saving a packet on not renovating.
3. Accessorise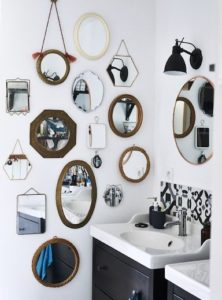 Everything from the bathroom mirror to your towels can make a difference to the look of your room. If your mirror is too small, plain or dated, a new one needn't put pressure on your purse with many quality designs starting at around $50. Don't forget mirrors are heavy so need to be properly mounted; be sure to match the mirror type with your wall type for the best result.
A simple sprucing tip is to update the soft accessories such as the hand towel/s, towels and bathmat. Use matching or complementary designs/colours at once and buy the best quality you can afford.
4. Change the lighting
Changing the look of your bathroom could be as simple as changing a light bulb. Brighten up the bathroom with a higher lumen output, or switch between cool and warm lighting according to preference. Changing some types of light fittings can also be easy DIY projects, though in some cases, for example if you're looking to install heat lamps or an extra set of lights, you'll need the help of a professional electrician.
If your bathroom is small and dark, we have some specific tips here.
5. Install new fixtures
No, we don't mean replace the vanity and bathtub: that would be renovating and we promised there wouldn't be any renovation in this post. We're talking about the 'accessories' of the fixtures like drawer handles, taps, and showerheads.
These fixtures tend to show wear and tear first so if it has been a while since the bathroom was new, they may be perfectly functional but look a little dated. Replacing them doesn't cost too much and can make a world of difference to the look of your bathroom. Make sure you opt for good quality replacements: you don't want your 'new' look to age in a matter of months.
Which bathroom quick fix is at the top of your list?